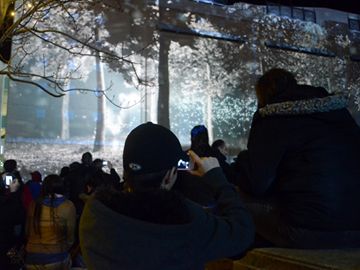 The light and sound show hit the southeast wall of Budweiser Gardens yesterday night, with about 1,000 people packed up in Talbot Street to watch the 10-minute presentation entitled Tree of Lights.
The video kicks off the 2013 World Championships, which has the athletes practicing for the event today, Monday, March 11, and begins competition Wednesday, March 13.
The sound and light show consisted of a figure skater performing, while moving through some of London's history in the background.
For all those who weren't in London yesterday, you can watch the Tree of Lights show below. For those who are in London, but missed the show, the feature will be played at the same location Monday, March 11, to Friday, March 15 at 8 p.m. and 10 p.m., and on Saturday, March 16 at 8 p.m., 9:30 p.m. and 11:20 p.m.
Source:
London community news